Biography Kim Kori

"I strive to give my sculptures an enchanting and somewhat magical quality that can transport viewers to that rare place between the believable and the unbelievable." Quoted by Kim Kori.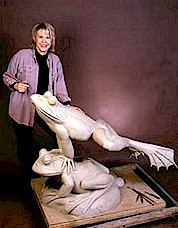 Growing up in the Lancaster County, Pennsylvania farming community, Kim Kori used the open fields as the backdrop of her many forays into childhood fantasy. The plants and animals that lived in the fields were the props for stories, which Kim would concoct and illustrate with drawing s that she always shared with her family. Kim recalls of ten sitting on her grandfather's lap while sharing her drawings and stories. Kori states, "I vividly remember the look on my grandfather's face after these story telling sessions as he would tell me what a great imagination I had."

Kim still draws upon those playful days in the fields of her childhood for the material she now sculpts. Recreating that dreamy childlike ability to play with nature, Kim's sculptures entwine magic with reality. Field mice, birds and frogs are some of the subjects of her whimsical art. In other sculptures, she recreates people out of a fantasy kingdom, people with butterfly wings and other imaginary attributes or experiences such as an exotic woman riding on the back of an ostrich in one sculpture.

The great sculpting skills you can see in Kim's work are a direct result of her extensive experience with drawing. In fact, it was Kim's love for drawing, which first drew her to the art of scrimshaw. Specializing in fantasy and wildlife themes, Kim's work was shown in Sedona in the early 80's at an exclusive jewelry store. Kim also apprenticed under the store's owner, noted jeweler Geoffrey Roth, learning fine woodworking including inlay and various jewelry making skills. Shortly thereafter, Kim accepted a position at an art foundry and was so inspired by the process of creating a bronze that she turned her artistic attention to bronze sculpture.

Kim is one of the few sculptors in the United States that is familiar with the casting process as she is in the forming the original clay sculpture. Because of her great skill in finishing the wax from which the sculpture is cast, Kim will occasionally put the finishing touches on the waxes for some of her contemporaries.

Kim is blessed with a passionate imagination through her surroundings, which offer great inspiration with a variety of bird, animal and plant life.