About The Lynn Lupetti Gallery Now in our 22nd year.
LYNN LUPETTI: See Magic

magic 'majik, 2 a : an extraordinary power or influence seemingly from a supernatural source b : something that seems to cast a spell or give an effect of other worldliness ENCHANTMENT.

An artist always, Lynn Lupetti has become recognized as a significant creator of both the human form and the human spirit. Her technical attributes are obvious, however they only serve to enhance her vision of life, most often enlightening and hopeful, sometimes surreal, always filled with magic. Although by choice of profession she remains cloistered, intently creating at her easel; she is by nature scholarly and gregarious, her paintings expressing her philosophy as it influences our time and place.

Well recognized for her beautiful figurative work, her list of collectors is impressive, including The Vatican,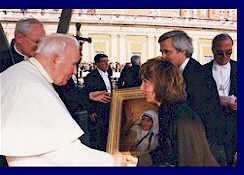 The White House and the Smithsonian Institute. Patrons also include congressmen, corporate chiefs, actors, musicians, authors and athletes. All seem to be attracted, not just to the quality of the artwork itself, but more specifically to the message Lynn Lupetti delivers with brush and paint. Like the child in "A Higher Purpose," she gives each of us endless possibilities.

Additionally the Lynn Lupetti Gallery offers a magical selection of bronze sculpture by Kim Kori and J.A. Pippett and Tiffany style lamps by Howard Rubin. We extend to you a personal invitation to visit "Carmel's Most Magical Gallery."

The Lynn Lupetti Gallery is open daily from 10 a.m. to 5 p.m. We are located on 6th Avenue between Dolores and Lincoln.
Mailing Address: P.O. Box 5776, Carmel, CA 93921
Phone: 831 624-0622
Fax: 831 626-4253
Email: lynnlupetti@sbcglobal.net

Content of this website: Original Artwork and Limited Editions by Lynn Lupetti.
at Lynn Lupetti Gallery located in Carmel California CA. Also included is information
regarding Lynn Lupetti's Art Gallery and some Biography information including contact information.